Language and Literacy
A 3-day Language and Literacy workshop for NEW teachers in the EF Feeder Track was launched on Wednesday, January 16.  Teachers from Geer, Miller, Salina Intermediate and Snow attended.
The workshop provides a seven step process that creates a language-rich interactive classroom environment in which all students can thrive. Topics include instructional practices for students at a variety of language proficiency levels, keeping all students engaged, and creating powerful learning supports.  Strategies also focus on structured opportunities for listening, speaking, reading and writing.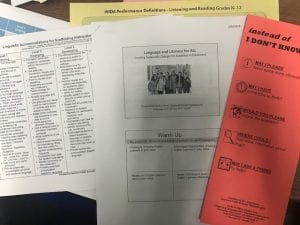 Here's what some teachers had to share:
*
"The most valuable part of today's workshop was the part on deciphering WIDA scores for appropriate levels to get a visual on where students are with their language proficiency.  This will allow me to better my instruction for students."
*
"Everything I learned today was so valuable!  If I had to choose one, it would have to be the accommodations I can do for ELs based on their WIDA scores…and how to pair AB partners.  Thank you!"
*
"The most valuable part of today's workshop was making sure to include all students during every activity and making it imperative that everyone is involved in listening, writing, speaking and reading.  I will focus on the strategies provided and include them in my lessons."
*
"It was a very informative workshop.  I was able to make connections to my classroom and how I would be able to optimize instruction."  
*
"The most valuable part of today's workshop was the sharing of strategies and practices that I can immediately use in my classroom.  I loved it!  I feel empowered to help ELs!"