Professional Learning Day
Language and Literacy Trainers facilitate learning at the school level on the district's PD day.
Salina Intermediate staff engaged in a full day interactive workshop on establishing a language-rich interactive classroom.  The morning focused on reviewing the WIDA Standards Framework to deepen understanding of the performance definitions and appropriate linguistic accommodations based on students' language proficiency.  Teachers also actively engaged in a variety of strategies related to comprehensible input and output to support students' conceptual understanding and language development.  They appreciated the opportunity to dialogue with their colleagues to reflect upon and benefits of the strategies and how they could be adapted for their own classroom.
The staff at Becker explored ways to increase rigor in their daily instruction.  They viewed a video clip from the movie "Inside Out" that made connections to Bloom's Taxonomy.  They then explored Webb's Depth of Knowledge using a Close Reading strategy and a sort.  Lastly, the teachers worked in grade level groups to plan language objectives and higher order thinking questions for Common Core State Standards.
GSRP classroom teachers and paraprofessionals applied Culturally Responsive Teaching strategies by actively participating in several structured tasks.  They collaborated to understand themselves as individuals, their colleagues, and their ​students—academically, socially, and culturally.
The Five Principles of CRT for Preschoolers are: Get your students' names right, Encourage students to learn about each other, Give students a voice, Be aware of language constraints, and Hand out praise accordingly.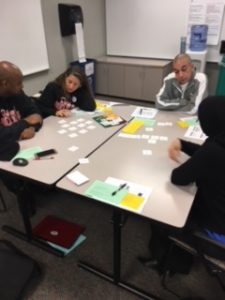 The expertise of  one of Dearborn's Language and Literacy Trainers was extended to Wayne RESA where a workshop on SIOP was facilitated for teachers from across the county.
Teachers engaged in hands-on  strategies to learn about the SIOP components and features.  Teachers were excited to take back strategies to implement in classrooms.