UM-D Title II ESL Endorsement Classes End with a Bravo!
Last Saturday was the culminating session for the 30 new Dearborn teachers who participated in the Title II Teacher Quality Grant with the University of Michigan-Dearborn.  And what a day! Three words sum it up—Creativity, Collegiality, and Competence!  Teachers worked on their "Synergy Reports"—individual posters displaying their learning from the two ESL Endorsement classes—EDD 547/447 "Teaching English as a Second Language", and PDED 418CC/518AT "Aligning Reading Theory and Best Practice to Curriculum and Instruction." Then teachers did a "Gallery Walk" to see and hear from their peers.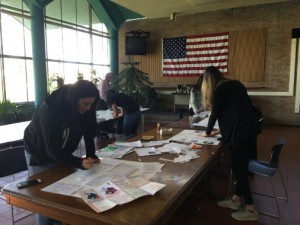 Following an "Expert Panel" question and answer session with Dr. Martha Adler and Dr. Jamie Lee from UM-D, Dr. Ross Groover and Maura Sedgeman from Dearborn Public Schools, teachers then gathered in grade level teams to "List, Rank, Compare, and Illustrate" their expert knowledge of "Exemplar SIOP Lessons":
"A SIOP exemplar lesson is like…
…a box of legos, because you can build academic language and literacy.
…a road map because both provide a guide to a final destination, with a variety of options along the way.
…a "butterfly life cycle."  Students start as caterpillars, wrapped in the SIOP chrysalis, and emerge literate butterflies.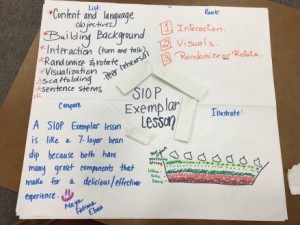 To end the day with a Bravo, teachers created a visual representation of their learning from the two classes using "stuff"—playdough, sticks, pipecleaners, and recycled fillers from computer boxes.  Take a look here and outside room 18 at ASC to experience their "creation-synthesis"!  Bravo Dearborn teachers!
Images and Perceptions: Empowering Communities by Embracing Diversity Dearborn Teachers participate in SIOP Trainers' Reunion