Dearborn Welcomes MSU Visitors
Michigan State University students visited several Dearborn Public Schools on Friday, April 8, 2016.  Dr. Margo Glew, coordinator of MSU Global Educators Cohort Program, has partnered with Dearborn schools to arrange these visits every spring for the past six years.  Over 50 MSU students who are primarily freshmen observed classrooms at Edsel Ford High School, Salina Intermediate, Unis Middle School, Henry Ford Elementary, Geer Park Elementary and Miller Elementary.  As students visited classrooms they observed and took notes on classroom environment, instructional strategies, and student engagement.  They then reconvened at our Administrative Service Center (ASC) to learn more information about Dearborn and reflect on their day.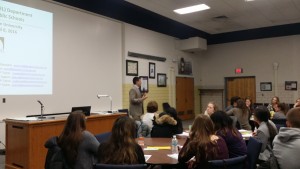 Dr. Glenn Maleyko addressed the students and shared information about his educational career, student and community demographics and the hiring process for teachers.  He positively encouraged the students to continue on their teacher preparation path.  Maylee Mosallam, English Language (EL) Coordinator, welcomed the students and shared information about EL services and the instructional support we offer.  Lila Amen, District Community Liaison, spoke to the importance of parental involvement and communication as well as our community values. Lastly, the students participated in an interactive task to reflect on their classroom visits.  Dr. Glew expressed that this visit is the highlight of the MSU Global Educators Cohort Program.